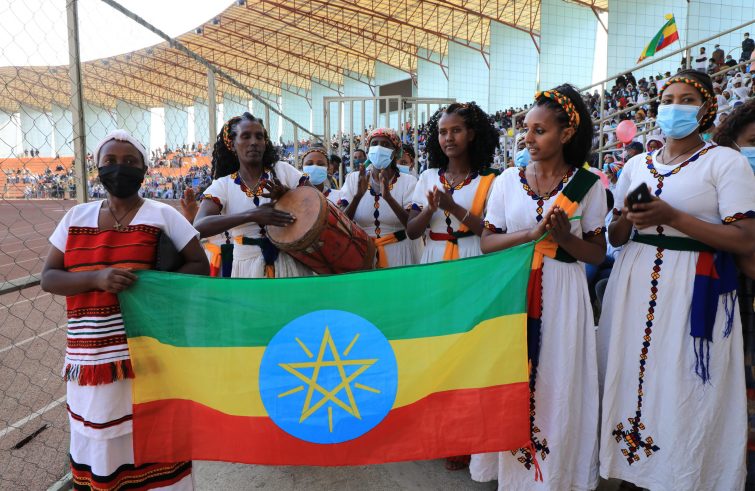 Despite the cease-fire agreement signed on November 2, 2022, between the Ethiopian federal government and the Tigray People's Liberation Front (TPLF), ethnic cleansing in the Western Tigray region persists: arbitrary detentions along with the expulsion of thousands of Tigrayans, extrajudicial executions, torture and abuse, people left to die of starvation or beaten to death just because of their ethnicity. Local authorities and Amhara special forces (notably the so-called 'Fano' militia), previously involved in the conflict that broke out in November 2020, are reportedly perpetrators of these serious human rights violations, which amount to war crimes and crimes against humanity. The denunciation is outlined in a Human Rights Watch report released a few days ago. The purpose of ethnic cleansing is to terrify residents and force them to leave the areas in which they live.
Imprisoned only because they are Tigrayans. Human rights organisation activists interviewed 35 people – including displaced persons, ex-detainees and aid workers – over the phone, who said they had been personally abused or had witnessed horrendous crimes. Security forces – comprising Amhara regional police, Ethiopian and Eritrean federal forces – have arbitrarily arrested thousands of Tigrayans only because of their identity and detained them in prisons, military camps, including schools that were turned into detention camps. Some stayed there for months, even a year.
No food, no water and no medicines. Hundreds of Tigrayans were detained in the towns of Humera, Rawyan, Adebai, in western Tigray, in terrible conditions, without food, water or medicines. "If people got sick, they remained there until they died", said a 28-year-old man who was detained in Bet Hintset prison in Humera. The prison is overcrowded to an unbelievable extent, with up to 1900 inmates. There were 140 persons in a 12 by 4 metre cell, some rooms had 198 people, others 379. "During the hot season it was hard to sleep because there was no room, so we would slep in shifts." A detained farmer said:
"They would sometimes give us three biscuits for a week."
Between July 2021 and November 2022, at least 19 people in Bet Hintset died from lack of food or medication. Many of them were viciously beaten with canes, iron bars, electric cables, or left in the scorching sun all day. Many died as a result of torture. Four prisoners said that a member of the 'Fano' militia, known as 'Shiferaw', threatened to kill 10 prisoners if any of them tried to escape. One detainee recalled that he said: "No one would accuse me. It is not a sin to kill Tigrayans." They once asked Tigrinya university graduates to write their names on a list. Authorities thus deported 56 people and no one has seen them since.
A report prepared by aid agencies found that Fano militia transported more than 2,800 men, women, and children from 5 detention sites in Western Tigray. In January 2023, at least 70 people were forcibly expelled.
"The militias came into my home and said I need to leave because it's not our land
– said a woman from Adebai who fled toward Sudan -. They would knock at midnight and say Tigrayans can't come back."
The precise figure of Tigrayans internally displaced in Ethiopia remains unknown, given that the war was fought between the Ethopian federal government and the Tigray region. In 2021, hundreds of thousands were estimated to be internally displaced. All we know is that of October 2022, the UN refugee agency had registered 47,000 Ethiopian refugees in eastern Sudan. To date, the Ethiopian government has shown little interest in bringing those responsible for abuses to justice, although some of the culprits are known, with their crimes documented in human rights organizations' reports. After the signing of the agreement in November 2022, the European Union, the United States and other international partners said that justice is a priority in Tigray. Yet, despite the fact that their requests were not met, they have sought a rapprochement with Ethiopian federal authorities.
Appeal to the Ethiopian government and to governments. "The November truce in northern Ethiopia has not brought about an end to the ethnic cleansing of Tigrayans in Western Tigray Zone," said Laetitia Bader, deputy African director at Human Rights Watch. "If the Ethiopian government is really serious about ensuring justice for abuses, then it should stop opposing independent investigations into the atrocities."  HRW called on the government "to suspend, investigate, and appropriately prosecute security forces and officials implicated in serious rights abuses in Western Tigray." Although international law provides that people forcibly removed from their homes have the right to return, the current context in Western Tigray is not conducive for voluntary, safe, and dignified returns." National governments are asked to continue to support the mandate of the UN International Commission of Human Rights Experts on Ethiopia (ICHREE), and facilitate its access. A visit by the African Union Monitoring Mission is planned for next June.