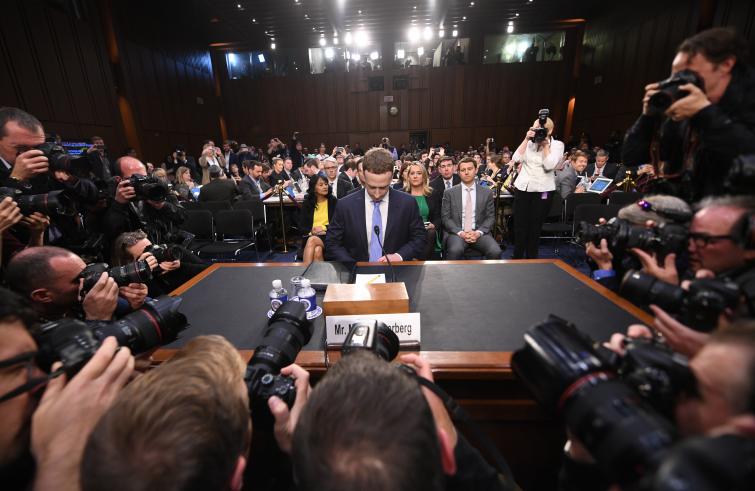 He ultimately also had to give up also his traditional casual outfit of grey sweatshirts and jeans to testify before the US Congress. Yesterday afternoon Mark Zuckerberg, CEO and founder of Facebook, was awaited by as many as 44 Republican and Democratic Senators who summoned the head of the Menlo Park social media colossus to testify before the Senate Judiciary Committee and Commerce Committee joint hearing following the Cambridge Analytica scandal. Zuckerberg replied to a barrage of questions that immediately highlighted the distance separating Washington lawmakers and Silicon Valley high-tech corporations. And the extent to which this sector lacks regulation.
 "It was clearly a mistake" to believe Cambridge Analytica when they said they had ceased inappropriate use of users data, "we shouldn't have relied on their word alone." Given the seriousness of the facts and after the company lost more than 14% of its stock market value, Zuckerberg could not but admit his responsibility: "We have not done enough to prevent these tools from being used for damage. We did not take sufficient account of our responsibility, and that was a big mistake.
It is not enough to connect people and give them a voice: we must guarantee truth and security.
Facebook is an idealistic and optimistic company. For most of our existence, we focused on all the good that connecting people can bring." However, he added, "it's clear now that we didn't do enough to prevent these tools from being used for harm as well. That goes for fake news, foreign interference in elections and hate speech, as well as developers and data privacy. We didn't take a broad enough view of our responsibility, and that was a big mistake. It was my mistake, and I'm sorry. I started Facebook, I run it, and I'm responsible for what happens here."
As regards personal data security, after having confirmed that the personal information of 87 million users may have been improperly shared with Cambridge Analytica, Zuckerberg recalled that the "Data-Abuse Bounty Program" will "reward people with first-hand knowledge and proof of cases where a Facebook platform app collects and transfers people's data to another party to be sold, stolen or used for scams or political influence." Furthermore, Facebook is willing to pay
Up to 40 thousand dollars to people who report any misuse of data by app developers.
As regards Special Counsel Robert Mueller's Russiagate investigation, Zuckerberg said that Facebook employees have already been interviewed: "I want to be careful here because our work with the special counsel is confidential." However, he confirmed that he himself had not been interviewed by Mueller or his collaborators.