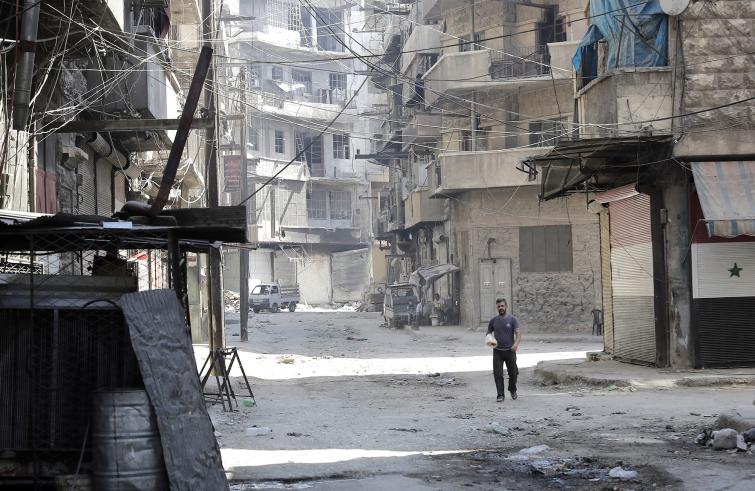 The armed combat ceased approximately six months ago, but the news of Aleppo's liberation was given only on July 6, following that of Mosul, yet another martyr city in Iraq. The Russian Foreign Ministry was the first to break the news of Aleppo's "complete" liberation from Islamic State militiamen. The city's inhabitants are trying to recover a normal way of life but many challenges lie ahead, first of all, the city's reconstruction. According to estimates, "70% of families living in Aleppo are without homes or shelter." The city is almost completely destroyed. Not only homes, also roads, schools, hospitals are damaged and must be rebuilt. Water and electricity services, currently provided for only a few hours a day, need being repaired. Not to mention employment: Aleppo once was Syria's economic hub. Before the armed conflict broke out, it supplied 60% of the Country's industrial production. It had a population of 4 million that dropped to 1.4 today. Factories and shops were shut down or destroyed, and with them, a huge amount of jobs.
Nonetheless, "There is a desire to live",
In Aleppo people have a desire to live and they are trying to make a fresh start"
the Melkite Greek Catholic Archbishop of Aleppo, monsignor Jean-Clement Jeanbart,  told SIR. "Local Christian communities are actively engaged to support the efforts of all those who continue to love this martyred city." For example, a few days ago , Saint Francis' Latin parish church in the district of Azizieh organized a summer camp that will last two months, attended by 860 children and youths.
Aleppo's greatest challenges include "the reconstruction of the people – their minds, their bodies and their spirit, along with their feeling of belonging to the community."
The Greek Catholic community is contributing with a series of initiatives, such as the vocational training Centre.
"Our students are increasing day by day", said Msgr. Jeanbart. This gives us concrete hope that young people could find a job in the reconstruction sector in the coming months, and maybe even in the coming weeks." The same applies to the Healthcare Centre, which, the prelate said, "offers free medical examinations on a regular basis in twelve different specialities, which include also dental treatment, to hundreds of patients." The solidarity-trade Centre is also active. "We inaugurated it only a few months ago – said Mons. Jeanbart -. Every needy family is given a voucher to purchase foodstuffs and other products at low prices. A dozen of people have found a job at the Centre." But the best piece of news regards the school environment.
"Pupils in our schools have completed their end-of-year exams with excellent results – the archbishop said. Three of the pupils in the Amal school ranked among the first six best students in the city of Aleppo. The war must not prevent us from improving the quality of our education."
To act on these words, summer civic education and language courses are ongoing, attended by over 120 students while several hundred students are taking part in the summer camps in the mountains.
"Aleppo is waiting for you."  Two projects in particular are especially dear to the archbishop, because, he said, they seek to provide a concrete answer to all those who wish to remain in Aleppo and to those who want to return, after having fled from the war, and been displaced from their homes.
"Building to remain":
is the first of these social programs. The numbers are important. "To date – said Msgr. Jeanbart – we rebuilt over 500 houses damaged by the bombs and started restoration works of less severely damaged places of worship, giving a job to hundreds of people, including construction workers and engineers. We granted 98 non-refundable loans to an equal number of fathers of families to revitalise their economic activities. Furthermore, a social-cultural Centre for the promotion of women will be inaugurated in the coming weeks. These are also ways to restore confidence and hope in the future among the population at large."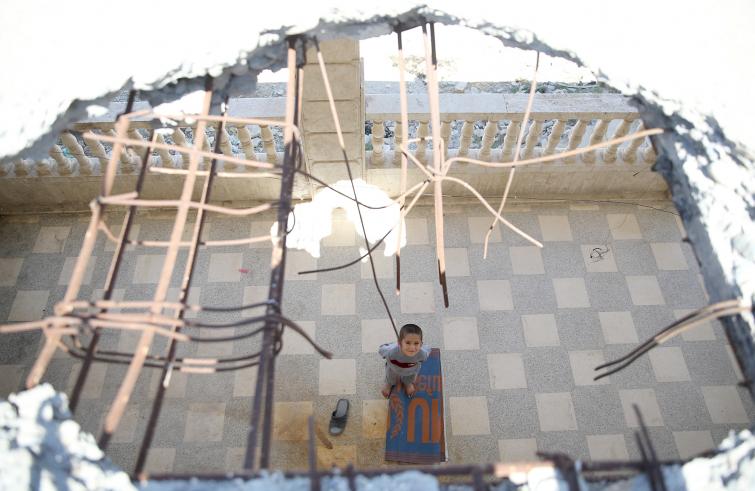 "Aleppo is waiting for you"
is the name of the second project. It is also meant as an appeal to all the faithful, to invite them to return to the homes they had abandoned. "We received many requests but we intend to continue raising awareness among the faithful. To that effect we developed a program called "Return." The purpose of the initiative is to curb the exodus of Christians from Syria, a veritable tragedy for our Church."
Before the war (2011), 185thousand Christians lived in Aleppo. Today, according to estimates of local Churches, there are half as many. "The project is addressed especially to families that lack the means to return to their homes." Those who decide to return will be paid all travel expenses to Aleppo, along with support to lead a dignified life until they find a job. Furthermore, the 'Return" project envisages temporary forms of support (1 or 2 years) to pay the rent of a new home if the family that returns had sold their own home before leaving Syria. As many  as 20 families have returned in the past weeks and Msgr. Jeanbart said he hopes "they will a sign of hope for those arriving after them."