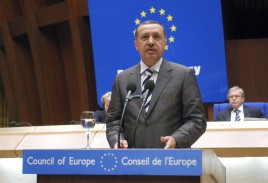 Recep Tayyip Erdogan like Tommaso Maffettone, a leading actor in the film "I figli… so' pezzi 'e core" (Children are apples of one's eye). Each in their own way, yet both caring fathers ready to defend their offspring. They are respectively Necmettin Bilal Erdogan and Feliciello. As for the latter, we all know how that story ended: his natural father – a wealthy man – traced him years after his birth and stripped him from the loving embrace of Tommaso who had raised him. As for Bilal Erdogan, we will have to await the outcome of the ongoing investigations on suspicions of money laundering carried out by Bologna's Prosecutor's Office. His father Recep Tayyip went into a rampage at the news of the investigations. In an exclusive interview with Italian news channel Rai News24, regarding his son, he declared: "If he returned to Italy he could be arrested as a result of an open investigation against him. Why? There is no answer. And when you ask why they don't answer. My son is supposed to go back to Bologna to complete his PhD. In that city I am branded as a dictator and the local population holds demonstrations in favour of the PKK. Why don't they intervene? Is this the rule of law? What happened to my son might cause difficulties even in our relations with Italy. My son is a brilliant man and he is accused of money laundering. Let Italy's judges deal with the mafia, not my son." These words are far from resembling a Neapolitan family drama. In fact, quite to the contrary.
After the failed coup of past July 15, Erdogan made a clean sweep of dissidents with repressive methods; an authoritarian drift that is distancing Turkey from the shared tenets of civilization and rule of the law.
The interview with Rai News24, far from complacent, was used by the Turkish dictator as an opportunity to argue with Europe and its representative for foreign affairs Federica Mogherini, "What would he do if he saw his Parliament destroyed?"; to debate on the reinstatement of the death penalty – which he claims follows a request by Turkish citizens and whose reintroduction would draw Turkey closer to countries like Saudi Arabia, Iran, Belarus, the United States, China, Kuwait, the Dominican Republic and Bahamas – and to launch not too veiled threats regarding compliance with the agreement on refugees, which, it should be remembered, has cost the EU something like 6 billion euro. In short, a furious Erdogan. Even more so before the risk that the scion of the Sultan, could be arrested if he set foot on Italian soil.
The RAI journalist justly reminded the Turkish president that the presumption of innocence is enshrined in Italian legislation. But apparently it wasn't enough to reassure him.
In his view Bologna's Prosecutor's Office should only investigate on the Mafia. That's all. Italy's Prime Minister Matteo Renzi testily reminded Erdogan: "Italian judges abide by Italy's Constitution and not by the Turkish president". "We call it 'Rule of Law', and we're proud of it", he remarked. "I figli… so' pezzi 'e core" (Children are the apples of our eyes), used to sing Tommaso Maffettone, with the harmonious voice of Italian singer Mario Merola. But the Turkish 'cover version' of the Neapolitan track sung by Erdogan is out of tune. Just like the decisions taken after the coup by the Turkish president, who today doesn't seem a credible advocate of the rule of the law.