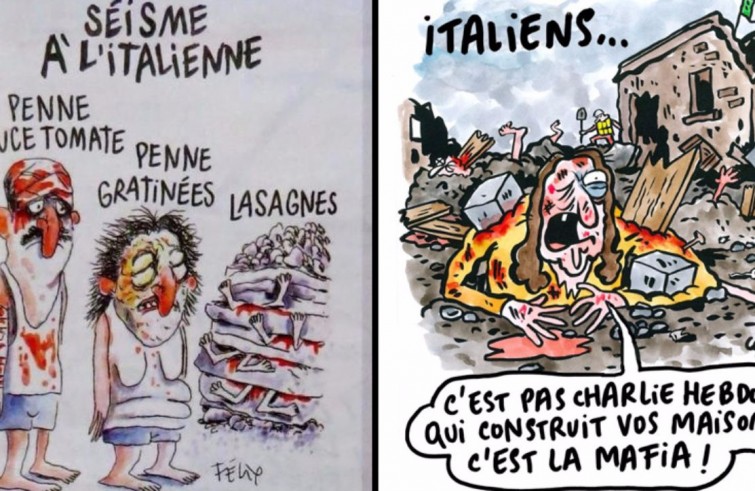 Je suis Charlie. Je ne suis pas Charlie. In a time of uncertainties, of social-network schizophrenia, even the sense of belonging becomes a liquid concept. We no longer know who we are. We rapidly change our skin and our minds. Less than a year ago our closeness to the French satirical magazine had become a conventional and international sign of the fight on Islamic terrorism. Today Charlie Hebdo has grown disrespectful, scandalous and immoral.
What is satire? How far can it go? There is no easy answer before those cartoons, which, through witless Italian stereotypes, make fun of a tragedy of devastating proportions.
They do it cowardly, rebutting the original meaning of satire (revealing what is purposely concealed thus doing a service to the common good) and reducing it to a sneer directed at the dead who will no longer reply. For this reason we should reflect on the planes of interpretation triggered by this controversy, in order to avoid that the plethora of comments, posts, and tweets, prevent us from grasping what is essential, from unveiling what is invisible along with the authentic elements underlying man's actions and intentions.
The first level of understanding refers to the gut reaction that strikes the sleeping chords of our indignation.
That Bergoglian "punch" following an offense against our mother, which we often tend to identify with when someone desecrates what is most dear to us, belongs to "normality." Our children, our parents, our home, our birthplace, are precious parts of our identity, which no one must dare to profane.
Not even a magazine whose language corresponds to extreme forms of satire, representing its code of interpretation of worldly events. Our instinctual reaction is part of us, but it risks bending to the logics of a form of resentment that becomes an end in itself unless it is combined with a second level of understanding, driven by responsible conscience and reasoned criticism. Charlie Hebdo is a satirical periodical. We must not forget it. Satire is a container filled to the brim with irony and idiocy alike. Enjoying or loathing its contents depends on the extent to which we feel close to it. In this case the earthquake, its victims, its consequences, are part of us, so close – physically and emotionally – that we share that same suffering and desperation, their resignation and the yearning for compensation.
Nonetheless we live at time when contingency plays a central role, whereby – according to sociologist Mongardini – man is caught between "abstract and totalitarian humanism and forms of aggressiveness caused by utilitarian selfishness." That's why we tend to bless Charlie one day and less than a year later we harshly condemn it. We are not being turncoats or people incapable of reaching a joint opinion. It simply amounts to the human condition of choosing according to our own perceptions and those of the community we feel we belong to at a given moment in time. However, this too is a partial approach, which risks being misunderstood. Making it complete requires a third (and last) level of understanding based primarily on a moral code.
Man in his fullness, his duties and rights, must emerge first of all.
We don't need to quote from the Social Doctrine of the Church to understand that human dignity, solidarity and responsibility are among the foundations guiding our human existence. Only in this way can a sound and coherently argued right of reply, discussion, rejection or approval respond to the freedom of expression (and satire). Only in this way will we be able to identify with Charlie or disapprove its contents, as in the case of the recent, indecent cartoons. Thus combining insticts, criticism and ethics represents the first step to identify reality, even that reality we would never want to experience; to live with that very "healing of the heart" called on by Pope Francis when he appeals to mercy and love also towards those whom today we see as our enemies. Without fear. As Catholics. As human beings.