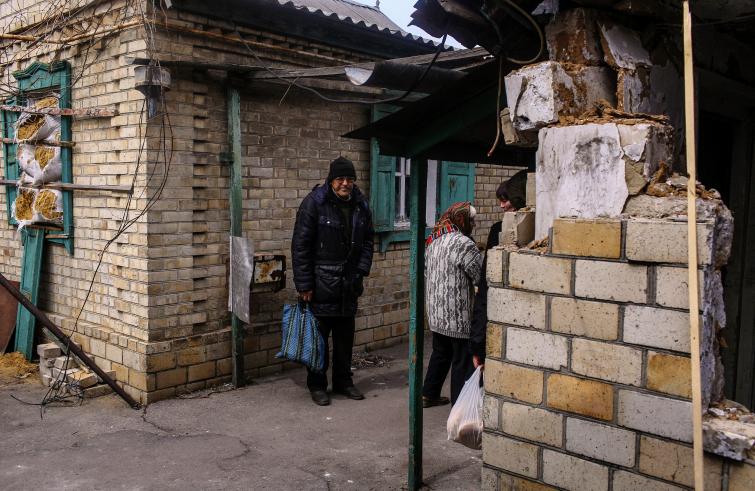 "The greatest tragedy of this conflict is general oblivion. Evidently, remembering what happened is annoying for many reasons and thus nobody talks about it. It's a silence that kills, amidst the constant threat of weapons, the noise of mortar shells, the danger of landmines. There's a feeling of abandonment", saidMons. Claudio Gugerotti, Apostolic nuncio, expressing his emotion with heartfelt words. SIR contacted him by phone on the day marking the outbreak of the armed conflict in the eastern area of the Country that, to date, left 10 thousand dead and 2 million displaced. On April 6 2014 armed protesters stormed into government buildings in the Donetsk, Lugansk andKharkiv regions. It marked the beginning of a war in the heart of Europe. It hit the news for some time, then it received minor coverage until it disappeared completely from media outlets. Experts call it a "frozen conflict", a hybrid war, resembling those ongoing in the Russian neighbouring territories of Transnistria, Abkhazia and NagornoKarabakh.
Everyone forgot except for Pope Francis. The nuncio told us he spent the Holy Week in the conflict areas. "The Pope strongly recommended me to pay frequent visits to those who are still there, to console them, pray with them and bring his blessing." Thus on Easter Msgr. Gugerotti visited a village near the cities of Lugansk and Donetsk. "They were looking forward to my arrival", he said. "When I entered the chapel I found an unexpected welcome. People broke out in tears, they embraced me. I asked them: what are you experiencing? They replied: 'Nobody cares about us. We are of no use to Russians not toUkrainians. We could hardly imagine that the Pope would send his representative to celebrate Easter with us. We can't believe it'. I told them that before my departure
I asked the Holy Father to impart a special blessing for them and Pope Francis responded after a few minutes.
They were moved to tears. The joy of these people as they learned that they hadn't been forgotten is an experience I will carry with me forever."
"Pope for Ukraine" campaign. The nuncio pays frequent visits to war zones in the framework of the "Pope for Ukraine" campaign that involved all European parishes in the collection of a considerable sum to which the Pope added 5 million euro, totalling 16 million euro.
To date, the initiative reached out to 800 thousand people, with diversified assistance according to the different needs.
The situation.Lack of medicines, water shortage, difficulty in accessing foodstuffs, malnutrition, bureaucratic hurdles "These factors combined underlie a situation that has been ongoing for years, which at psychological level is extremely hard to cope with", the nuncio said: "Children and old people are those who suffer the most. A doctor whom I spoke to said that such wearying situations also decrease the immune system's response to illness", thus
"people risk dying for bronchitis or at an a very young age."
Appeal to Europe. Monsignor Gugerottiappealed to Europe. "If Europe thinks that it will solve its problems by focusing on its domestic issues not only will it fail to solve them but it will also be crushed by external pressure. Only a global outlook can bring about everyone's salvation. Today there's no such thing as 'every man for himself.' A war is being fought at the gate of Europe but Europe is too busy trying to cope with national problems and the difficulties of coexistence to realize it. Unless international solidarity is recovered as a means to restore the grounds of common rights, to ensure a minimum level of justice and equality,
Not only will we fail to save ourselves, we will also let other people perish, only to regret, one day, that we had turned a blind eye."