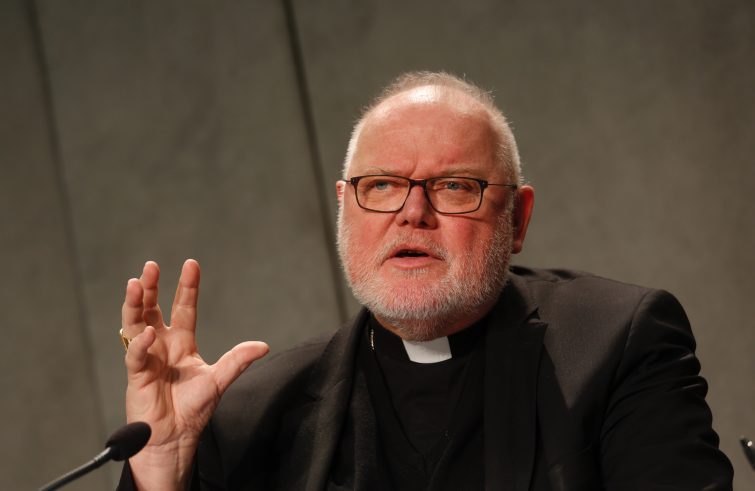 To create dialogue and debate forums to rethink Europe, to share ideas and concrete proposals, to engage people in constitutive processes, to find a new balance for coexistence. It's the proposal advanced in Rome at the end of three day of meetings and dialogue on "(Re) Thinking Europe. A Christian contribution to the future of the European Project." The event, held on the initiative of the Commission of Bishops' Conferences of the European Union (COMECE) and of the Secretary of State, was attended by 350 political leaders, bishops, and representatives of civil society in Europe. It wasn't a typical meeting but rather an area for dialogue with panel debates and 18 workshops. The final proposal – made by Cardinal Reinhard Marx, Archbishop of Munich and Freising, President of the German Bishops' Conference and President of COMECE – is to continue proposing other occasions for debate that may take different forms: dialogue forums, assemblies, discussion panels, open to everyone. His Eminence drew a final balance of the meeting for SIR.
In taking the floor, Pope Francis said: "Now is not the time, then, to dig trenches, but instead to work courageously to realize the founding fathers' dream of a united and harmonious Europe, a community of peoples desirous of sharing a future of development and peace." These are words of encouragement. But does Europe still have the strength and the energy to pursue this Union project?
During the meeting speakers agreed on the fact that we must start to recover the motivation for living together.
In this process, Christians have a specific responsibility, they have a vocation for Europe, they have something to say.
We decided to organize the meeting motivated by our intention to bring together ideas and share them, and most of all, to advance our commitment for Europe courageously and with greater determination. And the Pope told us: it is worth the while. I think this is the most important result, it's the objective that we had set ourselves.
Europe is facing a time marked by many new challenges. While your meeting was taking place in Rome, Barcelona announced the independence of Catalonia from Spain. The Pope highlighted the need for harmony and unity. Is it still possible to talk of unity when European peoples are breaking apart?
The Pope also said:
A Europe of solidarity and inclusion doesn't mean a Europe that downplays differences.
Thus it is necessary to activate subsidiarity mechanisms, new forms of federalism and fair forms of autonomy. Every Country and every region has the duty to ensure this balance, focusing on two important principles enshrined in Church Social Doctrine, namely: subsidiarity and solidarity. A social body cannot work if it does not take into account these two principles. It is therefore necessary to identify new avenues. Nobody can indicate the path that the other party should undertake. Everyone must find their own. But if all those involved are not determined to seek a balance between subsidiarity and solidarity, and between communion and autonomy, tensions will inevitably be triggered, which is what Europe is experiencing today.
Over the past few days many speakers pointed out that Europe is lacking areas for dialogue open to everyone's participation. What are your future plans to support the creation of venues for meeting and sharing?
I am thinking of the process activated in preparation for the Treaty establishing a Constitution for Europe. It was a two-year process marked by meetings, conferences, discussion forums for the definition of the text of the Treaty. This process was eventually halted with a stop to amendments ensuing the victory of the No-vote in the referendums held in France and in The Netherlands. Yet it constituted an attempt to involve civil society in this political process.
Today Europe is experiencing widespread scepticism vis a vis the European project, due to the fact that its peoples are under the impression that they are not being involved, that they don't fully participate in this process, that they are not a part of political life.
Also President Macron has recurrently proposed to establish Forums for citizens. It's a proposal that deserves reflection. I think that today it would be useful to organize dialogue platforms, areas where participants can share ideas and proposals for the future of Europe. The dialogue forum held in Rome highlighted the importance of organizing meetings of this kind. We experienced a fruitful dialogue between political leaders, bishops, and representatives of civil society. We all felt that it was useful. Now we need to move forward. Dialogue is necessary.
In this dialogue, what is the voice of the Church? And going back to the theme of the meeting, what contribution can Christians give to the "future of the European project?"
They can create common spaces for dialogue. We opened the doors to a common dialogue forum. People willing to get involved and meet challenges took part in the dialogue. We opened our doors not only to Catholics and not only to Christians. We opened the doors of dialogue to everyone. In this dialogue the Church must be an instrument of unity. We are not the owners of everything.
We are not the owners of the truth. We are witnesses of hope: it is our contribution for the good of society.