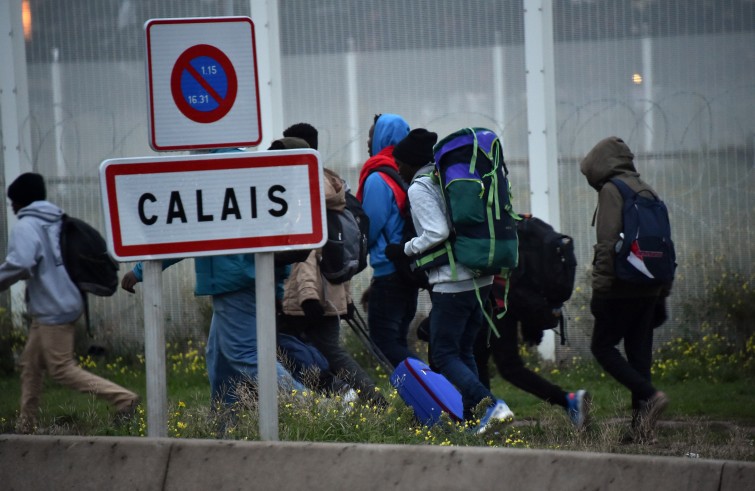 An unavoidable eviction given the inhuman conditions in which migrants were forced to live: in the mud, in the winter cold, in the dirt. Humanitarian organizations and the French Catholic Church made an appeal to carry out eviction operations in the full respect of human dignity, with special attention to children, women and vulnerable persons.
Eviction operations of the Calais "jungle" began on Monday October 24.
The government's plan is to move the refugees (6-8 thousand people according to estimates) to 287 Reception and Orientation Centres set up throughout the Country.
Only Corsica and l'Île-de-France have not been involved in the resettlement program. Sixty buses, transporting 1900 migrants, have left on the first day; 45 buses for 50 people will be leaving today, 40 on Wednesday and so on during the rest of the week. The massive logistic operation will be monitored by a contingent of 1250 police officers and gendarmes. No incidents were reported to date, but there is fear of clashes during the weekend, when only those migrants who have no intention to leave will be left in the camps.
A 3thousand square-meter hangar was set up in the area between the slum and the buses' point of departure, housing a clearing station. There are serious concerns for minors: according to a census conducted by the French organization FTDA on October 12,
The Calais camp hosted 1291 unaccompanied minors aged 14-18 (the youngest is six), due to remain in Calais until their situation is cleared.
The migrants cue up with their suitcases to file official procedures before entering the buses, said Didier Degrémont, President of the Secours-Catholique Pas de Calais delegation, present on site as soon as the clearing began. "It's very moving to watch all of these people, whom we have been accompanying up to now, as they leave. We hope they will we welcomed just as we had promised them. We are worried about what will happen next. We don't know what will be of those lacking refugee status." Refugees stand on different lines separating those over 18, unaccompanied minors, families, and vulnerable persons in need of special care (who will be followed by Doctors Without Borders). They will be proposed two destinations in two different regions.
Jusqu'à 20h ce soir, 60 bus partiront de la "jungle" de Calais avec des migrants à leur bord, direction des Centres d'accueil en France pic.twitter.com/TBlYXPeNav

— France Bleu Nord (@fbleunord) October 24, 2016
Their living conditions in Calais were "indescribable".
"Tents were completely immersed in the water – said the Caritas worker -. It couldn't go on like this. It's undignified and not worthy of a Country like France."
The post-Calais operation machine is in full speed, while Secours-Catholique Caritas France has mobilised its associations nationwide to welcome the incoming migrants.
Accueil #migrants #calaisjungle favoriser la rencontre et le vivre ensemble https://t.co/QOgULHR72G pic.twitter.com/BhowxPrUvy

— Secours Catholique (@caritasfrance) October 24, 2016
Humanitarian associations underlined the big "question mark" regarding the future of those who have no intention of leaving Calais and intend to reach England at all costs. For this reason Caritas France called upon the government to set up a permanent reception centre, since "there will always be men and women arriving with the intention of leaving again for England."
As the clearing began, the bishop of Arras, monsignor Jean-Paul Jaeger, made an appeal urging that clearing operations be carried out with a "surplus of dignity and respect, especially towards minors, women travelling alone and those in precarious health conditions."
#calaisjungle Jungle de Calais : « Démanteler ou construire » par Mgr Jaegerhttps://t.co/9RnfjvW1lj

— Vincent Neymon (@VNeymon) October 24, 2016
"Although this place represented a ray of hope for many people – the bishop said – owing to the precarious health and subsistence conditions it is doomed to be dismantled." But the "dismantlement period" must become a time "to rebuild".
"In many cases these men and women have left their home Country and their families in painful, excruciating circumstances. They were exploited by trafficking rings supposed to bring them to a dreamed promised land. Instead, they were brought to Calais in the conditions we all know."
The bishop said he is concerned that "the media attention given to the event may trigger fears, defensive reactions and feelings of rejection." He added: "Our borders are torn down in case of trade, purchases, production and capital circulation. Why should they be further strengthened and closed now that human beings are on the move to save their lives?". The bishop of Arras guarded against the ongoing campaign in France for the 2017 presidential elections and asked not to confine the issue to electoral slogans "when the very survival of fragile people is at stake." He reminded the Catholic faithful that although the Year of Mercy is nearing its end its works will "continue marking the daily lives of our communities, since they are the sign and the fruit of the mission of Christ and of the Church. "Welcoming the stranger – the bishop concluded – is one of these works of mercy exemplified by Christ, who calls upon us to put into practice as his true disciples."