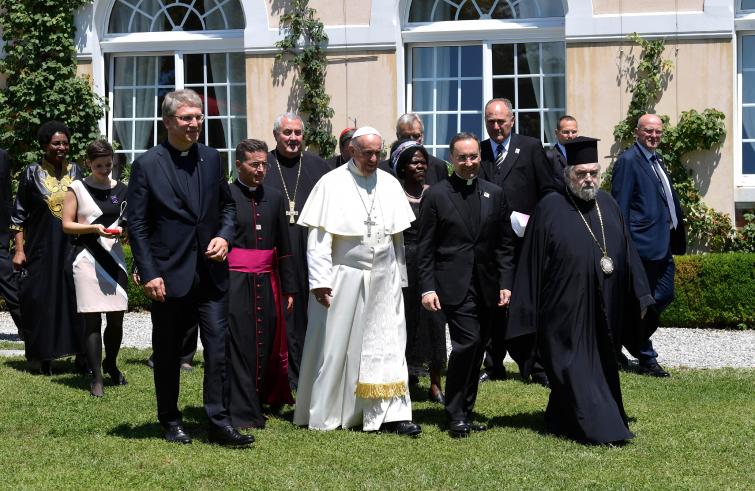 "A milestone": Dr. Rev. Olav Fykse Tveit, WCC Secretary General, thus defined Pope Francis' visit to the World Council of Churches. But the feeling is that this "milestone" will pave the way to a new departure for greater and more fruitful cooperation between the Ecumenical Council and the Catholic Church. Rev Tveit made it clear: "We will not stop here. We will continue, we can do much more together for those who need us."
The Ecumenical Council welcomed the Pope with deep friendship and joy. The day began with an ecumenical prayer at the WCC chapel. Faithful belonging to the Orthodox, Anglicans, Protestant and Old-Catholic traditions prayer together for Christian unity, peace, reception of migrants. From the Mediterranean to Mexico, the Churches embraced the cries of peoples victims of war, poverty and persecution. "We build barriers in our hearts and minds. Lord Jesus, help us, by Your grace, to banish fear from our hearts, so we may embrace each of your children as our brothers and sisters and welcome immigrants and refugees with joy and generosity, offering them our help and meeting their needs."
It feels like the Ecumenical Council had been awaiting this visit for a long time. Everything took place in a climate of joy and consolidated friendships. Lunch, greetings, conversations along the corridors, bus rides, the visit to the Bossey Ecumenical Institute, the meeting with students, the handshake with the delegation from North and South Korea. The WCC was founded in 1948 on the ruins of the Second World War with the dream of standing as a sign of unity and reconciliation in a world torn by conflicts. Today it brings together 350 Churches which collectively represent some 550 million people across the world. It is engaged in the front line in Regions of the planet where peace is particularly threatened. A clear token of this commitment is the presence in Geneva of a delegation from the Churches of North Korea, invited to attend the meeting of the Central Committee by Rev. Tveit during his trip to Pyongyang past May.
"The world in which we live is in desperate need of signs that we can be reconciled and live together as one humanity," , Tveit said. With Pope Francis, the Churches discussed the "distorted use of religion"; the "Gaps between rich and poor, between peoples of different groups and races," which "remain and even increase"; the "ongoing exploitation and destruction of our planet" and the "constant attacks on the dignity of human beings, undermining their rights and their chances to hope for a better future together in this world."
"We should be united in our hope for a shared and common future for all", Tveit underlined. "We all have the right to hope."
Church unity today largely depends on whether Christians of all denominations and in all social environments, show that they face the present challenges together. And while differences and reasons for division linger on , there clearly is a solid common ground for cooperation. Agnes Aboum, Anglican Kenyan-born theologian, moderator of the World Council of Churches, defined Christians as "pilgrimage companions", and highlighted the new climate characterising the WCC and the relations with Vatican dicasteries: the Pontifical Council for Promoting Christian Unity, for Interreligious Dialogue, the new Dicastery for Promoting Integral Human Development and the Secretary of State. One of the most awaited fruits of this new climate is the "World Conference against xenophobia, racism, and populist nationalism in the framework of global Migration" due to take place in Rome September next.
"We hope – concluded the Anglican theologian – that your visit will mark the onset of a new phase of cooperation and Christian unity."
(Foto Vatican Media/SIR)
(Foto Vatican Media/SIR)
(Foto Vatican Media/SIR)
(Foto Vatican Media/SIR)
In his speech, Lutheran Rev Tveit also addressed the role of the Pope. "Your Holiness, you have in many ways through your ministry shown your commitment to this holy ministry of unity, serving justice and peace, going outside the comfort zones of the Church."
"Your leadership is a strong sign of how we can find expressions of this unity in diakonia and mission, walking, praying and working together."
He concluded: "it has taken 70 years to come to where we are today. Let us make it possible for the next generations to create new expressions of unity, justice and peace!"